Communication is Key When Creating a Will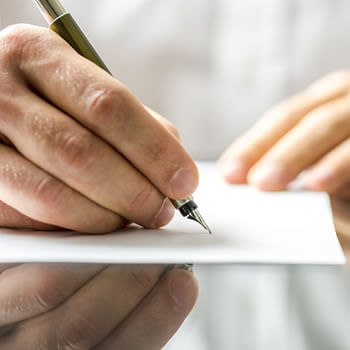 The thought of discussing your affairs is an important part of preparing your estate. Planning for the future should include events and things you want to do in the very near future, however, it should also include things that need to take place should something happen to you in the far and distant future.

So, where should you start? Keeping the lines of communication open with family is crucial to ensuring that your wishes are carried out the way you want, when need be. This means having an open and honest discussion with family members, beneficiaries and intended executors during every step of the process, to avoid blindsiding them later. During the grieving process especially, things like planning a funeral, and what to do with your possessions, are the last things you would want your family to have to worry about.

Things you might want to consider when preparing your will:

1. The physical location of your will – something as simple as you have a will and where it is located could slip your mind, but is important, because your wishes can't be carried out if your will cannot be found.

2. How you want items and money to be divided – discussing with family members which items you want them to have, or how you want your money to be divided, is an important part of the estate planning process. An open and honest discussion ensures that there are no surprises, and that family members aren't fighting over the division of property and money. Another thing to consider is asking family members which items they might want to have. An item for one person might have great sentimental value, while for someone else it could be insignificant.

3. Updates – a recent marriage, and the introduction of a new spouse, is an important life event that needs to be reflected in your will. As well, when getting divorced, you may want your old spouse to be removed, and a new spouse, children and/or family members to be added in their place.

4. Who you want to be executor – the job of an executor is to distribute your property from your will, and arrange for the payment of debts and expenses. Since this person has such a big responsibility, it is important to choose wisely. Before deciding, you should discuss with the person if they are up to the task of handling the responsibility, to avoid burdening them later.

5. Review – a will should be reviewed every few years, especially after any significant life event. Circumstances change and it's imperative that your will reflect your most recent wishes.

Still have some questions? We can help. We can assist with everything from estate planning to wills and trusts. Get in touch today!


Mazzeo Law Barristers & Solicitors
240 Chrislea Road Suite 100
Vaughan, Ontario L4L 8V1
Email: info@mazzeolaw.ca
Phone: (905) 851-5909
Fax: (905) 851-3514
Price Range: $000 – $000