What to do when buying a property with someone else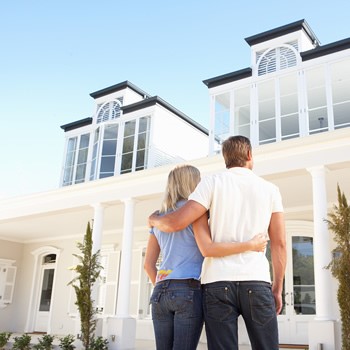 Thinking of buying a piece of property with a spouse, a family member or a friend? The idea of sharing the cost of purchasing a new home is very attractive right now, especially with home prices still at an all time high, but there are a few things you should consider before signing on the dotted line.

Home ownership comes with a mortgage, yes, but one thing that tends to get forgotten about is title and ownership of the new property. Did you know that every purchaser of a new property holds legal title to it as well? More specifically, title means you are the registered owner of a property. In most cases, land ownership is registered through provincial and territorial laws and government agencies, while land titles are registered through a parcel-based land registry system.

Once a purchase is complete, a certificate for registered ownership is issued to the new homeowner(s). If you've never made such a big purchase before, you might not know what to do in cases where more than one person is involved in buying a new house or condo. For example, whose name is on the title? Can you list more than one person? What happens if one person passes away?

In another document filed last month, McCain says Melanson is not entitled to the $5 million set out in their prenuptial agreement or to any share in the increase of value to their marital home during the brief marriage that began in April 2014 and ended in January 2015, the Globe says.

There are two main ways to take on title:

1. Joint tenants
If more than one person is buying the property, joint tenants hold the land jointly. This means there is no divisible interest in the land, and not one clear owner. Together, the tenants hold 100% ownership of the land, unless they have an arrangement to be tenants-in-common with someone else while they are still joint tenants. In cases where one tenant passes away, the other joint tenant has the right of survivorship, and gains all of the deceased's interest in the property to become the sole owner.

2. Tenants-in-common
Where more than one person is buying a property, each tenant acquires a divisible interest in the property. For example, if two people are purchasing a home together, each would hold 50% of the property interest, with each being 50% owners (as opposed to joint tenants, where there is not one clear owner). If one tenant passes away, the other tenant does not automatically get right of survivorship, since the other 50% is not his or hers to own. In this situation, it would be important to have a will, as property interest is usually handled that way. Without a will, a court of law would decide who gets the property interest.

Still have questions? We can help. At Mazzeo Law, we specialize in real estate acquisitions, including title insurance, reviewing agreements for purchase and sale, and transfer of ownership. In cases where you were a co-purchaser, we can also help with removing someone from the ownership or title of the property. Get in touch today.


Mazzeo Law Barristers & Solicitors
240 Chrislea Road Suite 100
Vaughan, Ontario L4L 8V1
Email: info@mazzeolaw.ca
Phone: (905) 851-5909
Fax: (905) 851-3514
Price Range: $000 – $000